សេចក្តីជូនដំណឹង ស្តីពី សន្និសីទវិទ្យាសាស្រ្តថែទាំឆ្នាំ២០១៩ នៃសាកលវិទ្យាល័យវិទ្យាសាស្ត្រសុខាភិបាលនិងសាកលវិទ្យាល័យ EWHA នៃសាធារណរដ្ឋកូរ៉េ
17/07/2019 @ 8:00 am

-

19/07/2019 @ 5:00 pm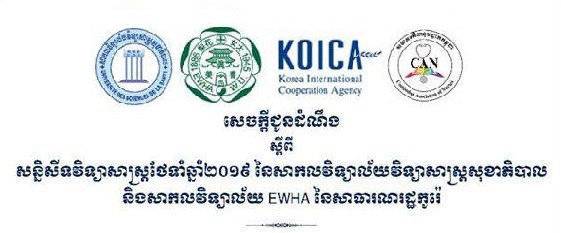 Announcement
"UHS" -EWHA Nursing Conference 2019″
Reference Approval letter Nº 218 អបស អធម from the Ministry of Health, Cambodia dated 17 June 2019
The University of Health Sciences (UIIS) in collaboration with EWHA Womans University, Republic of Korea and the Cambodia Association of Nurses (CAN) will organize the UHS-EWHA Nursing Conference 2019 which will be taken place from 17 to 19 July 2019 UHS Campus 1. located on #73 Preah Monivong Boulevard Sangkat Sras Chak Khan Daim Ph Phno Pedh Cambodia During the oonfemoe, participarts will Boulevard, Sangkat Sras Chak, Khan, Dam Penh, Phnom Penh, Cambodia.
During the confercnoe, participants will be able to gain knowledge from results of nursing rescarch. experience related to Nursing education and practice. This conference also aims nt providing capncity building opportunity for nursing students faculty members. It also serves as a discussion platfonn to exsplore the potential and opportunity with partners to develop new nursing rescarch projccts in the future.
300 national and international rescarehers, speakers, lcturers and students will participate in this conference. Due to limited numher of availahle sents, please register for the conference by 12 July 2019.
Online Registration: via the link below
http://www.uhs.edu.khinurse-conf19
Registration Fees
| UHS Professora/Lecturer | UHS Students | UHS Alumni | Other Guests |
| --- | --- | --- | --- |
| Free of charge | 40 CO0 riels (1 USD) | 4 000riels (1O USD) | 80 000 riels (20 USD) |
Payment Method
For UHS students (in cash), al the UHS Student Affairs Unit Office (Tor Campus 1) and the TSMC Student Affairs Unit office (for Campus 2) during registration period.
For other participants (in cash): at the conference registration counter in the aftemoon on 17 July 2019 For more information, please contact:
Telephone: 077 286 886 or 078 974 748
E-mail: conference@uhs.edu.kh
Campus 1 US Student Affairs Unit: 092 342 294 or 015 597 371
Campus 2 TSMC Student Affairs Unit: 017 557 377 DELL